Since the last time I wrote I have traveled through three continents to play five LET events in South Africa, Australia and Spain. Here is a little recap of the different events and my experiences:
Joburg Ladies Open
March 24th – 26th:
Before this event begun Knud Andreas and I spent some time in the area preparing for the tournament. I was ready when day one started and the scores reflected that. It was not a perfect round, but it was more than good enough and I found myself in the top portion of the leaderboard. The plan for day two was to attack the course once again and to reduce the mistakes.
But all of a sudden, round two was over and so was my job for the week. The number of strokes brought me down the leaderboard and we missed the cut. I was extremely disappointed as I had not foreseen this devastating outcome the slightest. My game was good, the confidence in my game was great, but there was something wrong. From early that morning on the range I could not slow down my heart rate. I was stressed all day. I was mad and upset at myself that evening, more than I have ever been because of golf, because I did not understand what had happened during the second round and why.
After a day had passed Knud Andreas and I started to evaluate and go over the round, both good and bad, like we normally do after an event. Knud Andreas said something that made all the anger disappear in an instant: «I think it might have been the thunder». If you know me you know that I am quite easily scared, and even more by lightning and thunder, and from the range to the finish of the round there was thunder, dark clouds and we even had a bit of hale.
Now I know, and can learn from that. I was not aware that the weather was affecting me by increasing my heart rate, shifting my focus and scaring me throughout the day. I have now found ways to change this if I ever have to play in conditions like that again, which I probably will. There are so many experiences to be had, and the more situations I learn to handle, the more prepared I will be next time. Obvious perhaps, but never the less true.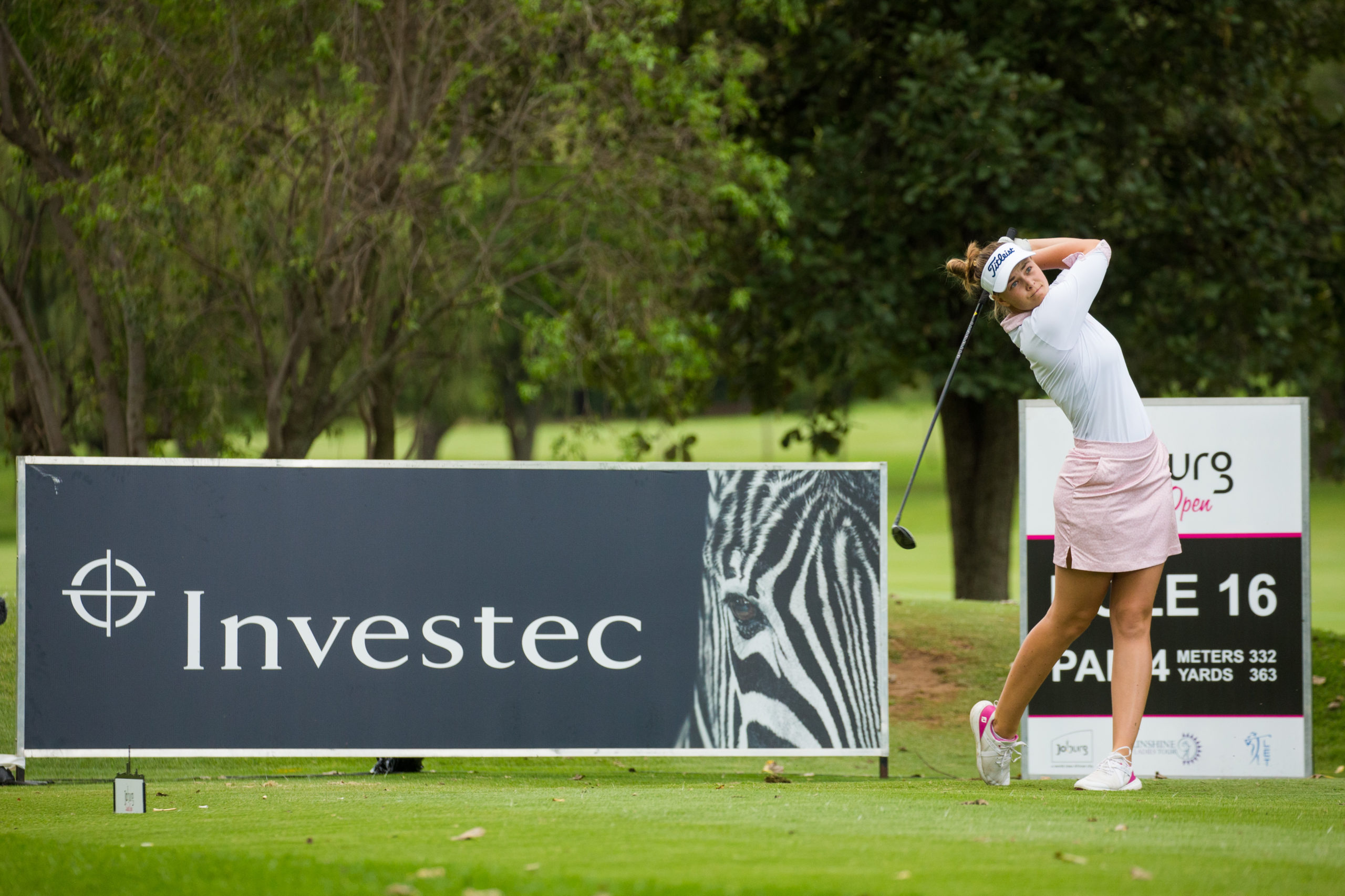 Invester South African Women's Open
March 30th – April 2nd:
After the Joburg Ladies Open I made a direct choice to change my approach to tournaments in general. I did this because during the last few events I felt uneasy and stressed, more stressed than I need to be in order to preform at my best.
So I decided simply to not look at the leaderboards, and to not concern myself with anything regarding placements. My focus were to go towards my game and my shots on the course, nothing else. Cape Town, where this event was held, is known for its windy conditions. This was another reason to take on my new approach as it would be even more important to stay in the here and now, to not look or even think ahead. Everyone were going to face similar conditions and whoever stayed patient the longest would have an advantage.
After the first day I felt good about my round and how I tackled the weather, and that was all that mattered. The second day we set out to do what we did during round one, and we succeeded. After seeing my tee time for round three I gathered that I was playing in the second to last group. I was not nervous, nor stressed, because I knew that all we had to do was to do as we already had done two days in a row.
We were going to have som bad breaks and bad shots, just like everyone else. We played our own game and made some good decisions like for example hitting my 2-iron in stead of my driver to keep the ball in the fairway on a few holes where most of the field hit their drivers. This was to give myself some confidence and ease the pressure on a few tee shots where we were hitting into the gusting winds.
On the range before teeing off for the fourth and final round I understood that I was in the final group as we were only three players left on the range. I did not feel more pressure or stress than the other days, which was very nice, and I played as well as I could.
I did drop from a top three to an 11th place, but I know that I did my best in the moment, and I could not demand anything more. It was a very valuable experience to tee off last on Sunday, and I really enjoyed it! The conditions were extremely hard, and windy conditions has up till resent been one of my biggest weaknesses. So I am very proud of my 11th place.
As a big bonus, my Dad had taken the trip from Norway to Cape Town to watch the event. I was very happy to have support on and off the course, and I am pleased that I got to show him some good golf.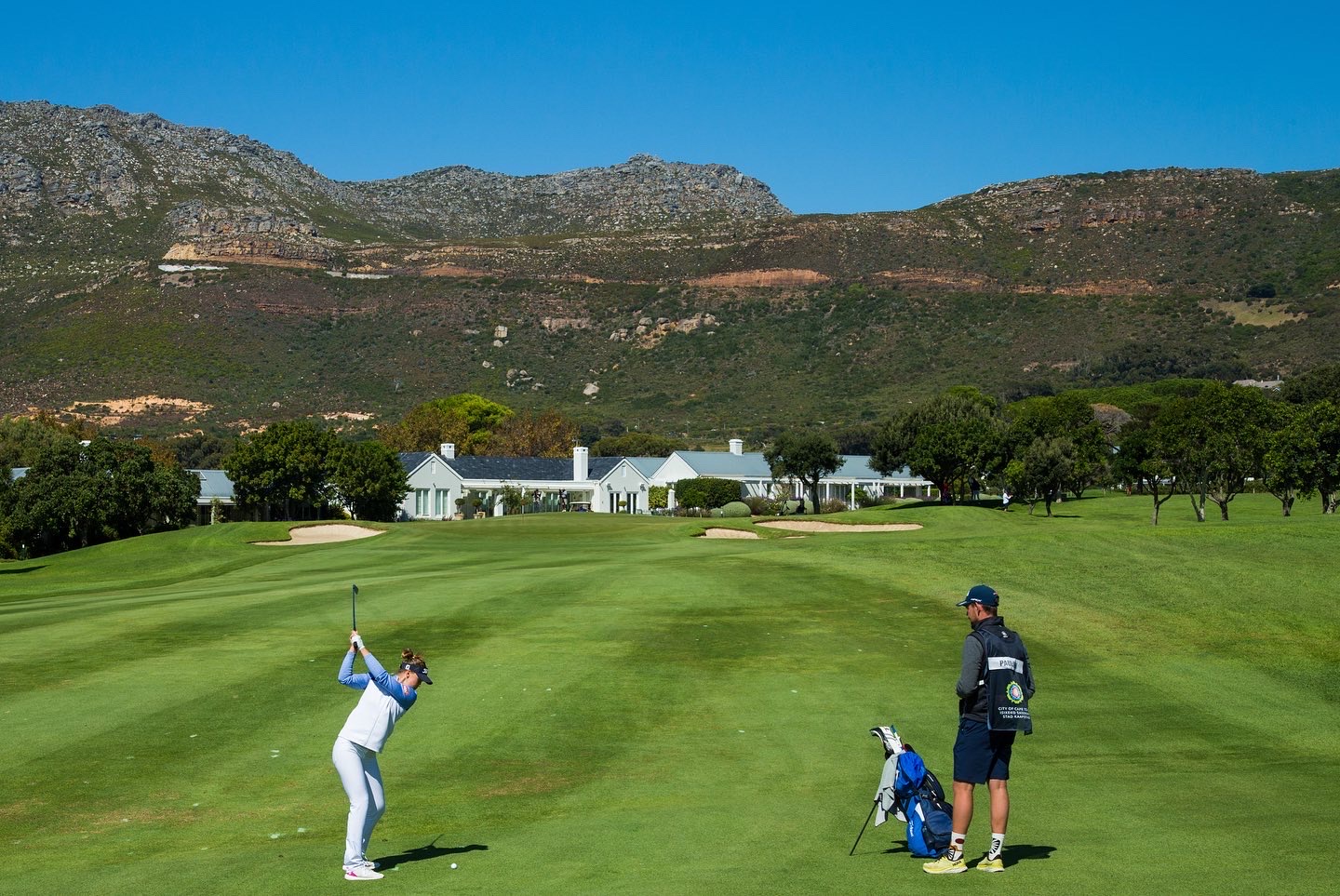 Australian Women's Classic – Bonville
After the two weeks in South Africa I left Knud Andreas, who was going to play the Men's Sunshine Tour Qualifier, and headed towards Australia with my new travel companion Maja Stark. We were hosted by my Australian «bonus family» the Shearer. They are the most lovely people and made us extremely comfortable in their home all week.
I made the cut, but really struggled hitting the ball. I thought it could be the long travel, but after day three my Coach Johan looked at a video I sent him and saw quickly that my grip had moved a little out of position. I still find it crazy how big a difference such a small thing can make. After that observation life on the course became increasingly easier. Maja on the other hand had a very good week and was only one shot away from play off, but she finished at a solid 2nd place. After the event we drove the four hours up to the the next event.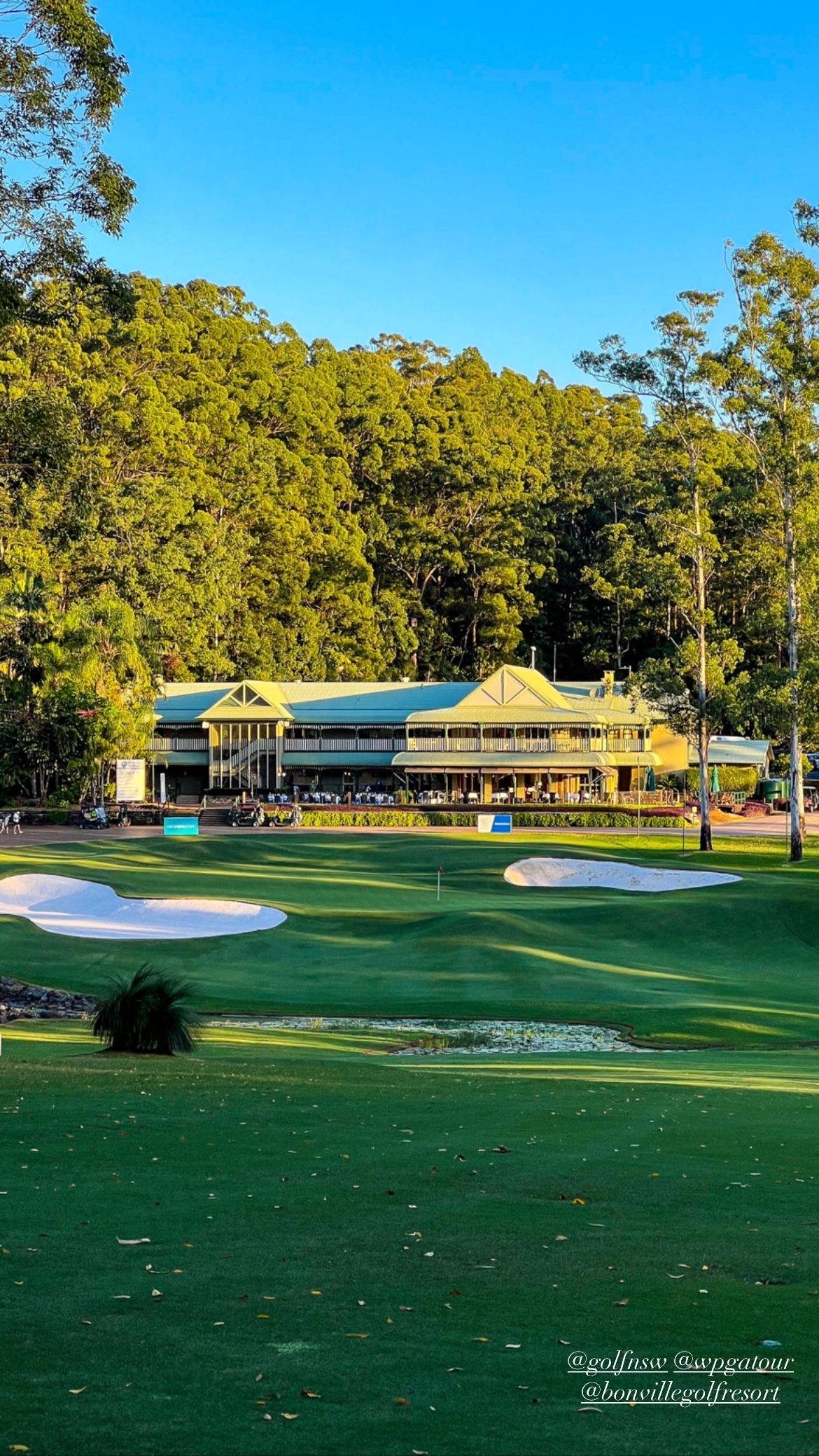 Women's NSW Open
Coolangatta & Tweed Heads Golf Club was up next and Maja and I were ready to take on the course. Most of my shots were good, but suddenly a big miss cost me shots I did not recover from. I tried as hard as I could to make it up on the last few holes on round two and finished with four birdies in the last nine holes, but I unfortunately missed the cut by one small shot. I was disappointed, but pushed it aside and looked at this missed cut as an opportunity to caddie for Maja and help her during the weekend.
Maja was in a good position going into the weekend leading, which was new to her, and me. Her previous victories has been coming from a position behind and finishing with a really strong last round. We stayed calm and had a good time on the course. She did not have her A-game, but she made it work, and won by 5 shots! I am extremely proud of her and I am so happy I got to be a part of her win. She told the interviewer that I was a good caddie for and a mood stabilizer for her out on the course.
It was very interesting and I learned a lot to see up close what it takes to win! I loved seeing it, being there, and being able to celebrate with Maja on her special day. We worked well together, and maybe I will caddie for her again when it does not conflict with my own tournaments, who knows!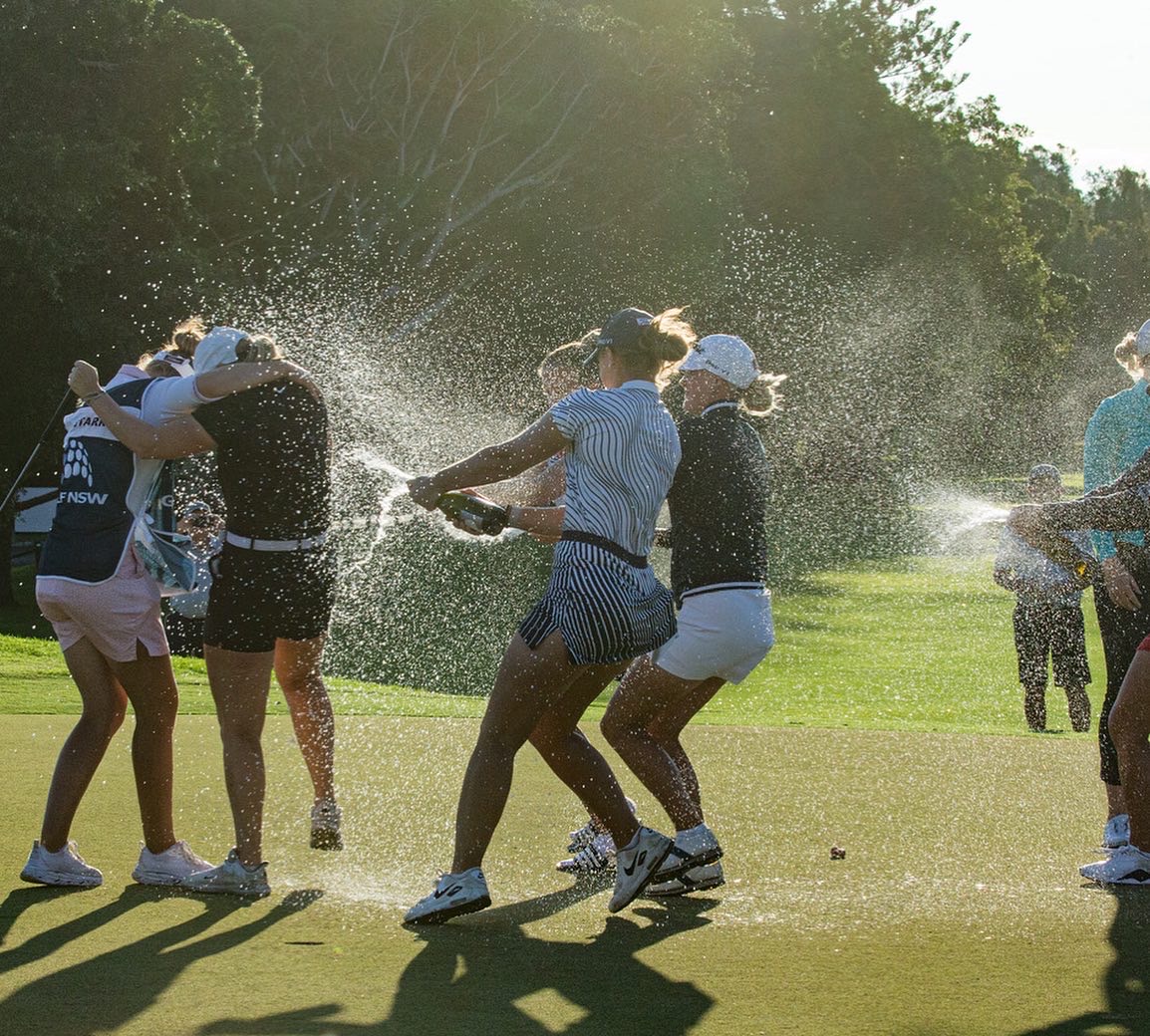 Comunidad de Madrid Ladies Open
My latest event was in Madrid at the Jamara-RACE Golf Club. This time I got to prepare with Knud Andreas back on the bag, and he spotted that my aim was very off, and that was probably the root of my problems from the previous weeks. After fixing this we were ready for the event. Having Knud Andreas on the bag is as much a help on the course as it is off the course. Because small things like this is not always easy to spot on video, and having that extra set of eyes on my swing from time to time is definitely of great help!
This week I was hitting the ball really well with my irons and driver and I saw a great improvement to my game. I made the cut and played some good golf. I did start to feel that I had been on the road for more than two months, so I was very happy to go back home for even just a few days before heading to France to play the Jabra Ladies Open on the beautiful Evian Golf Club.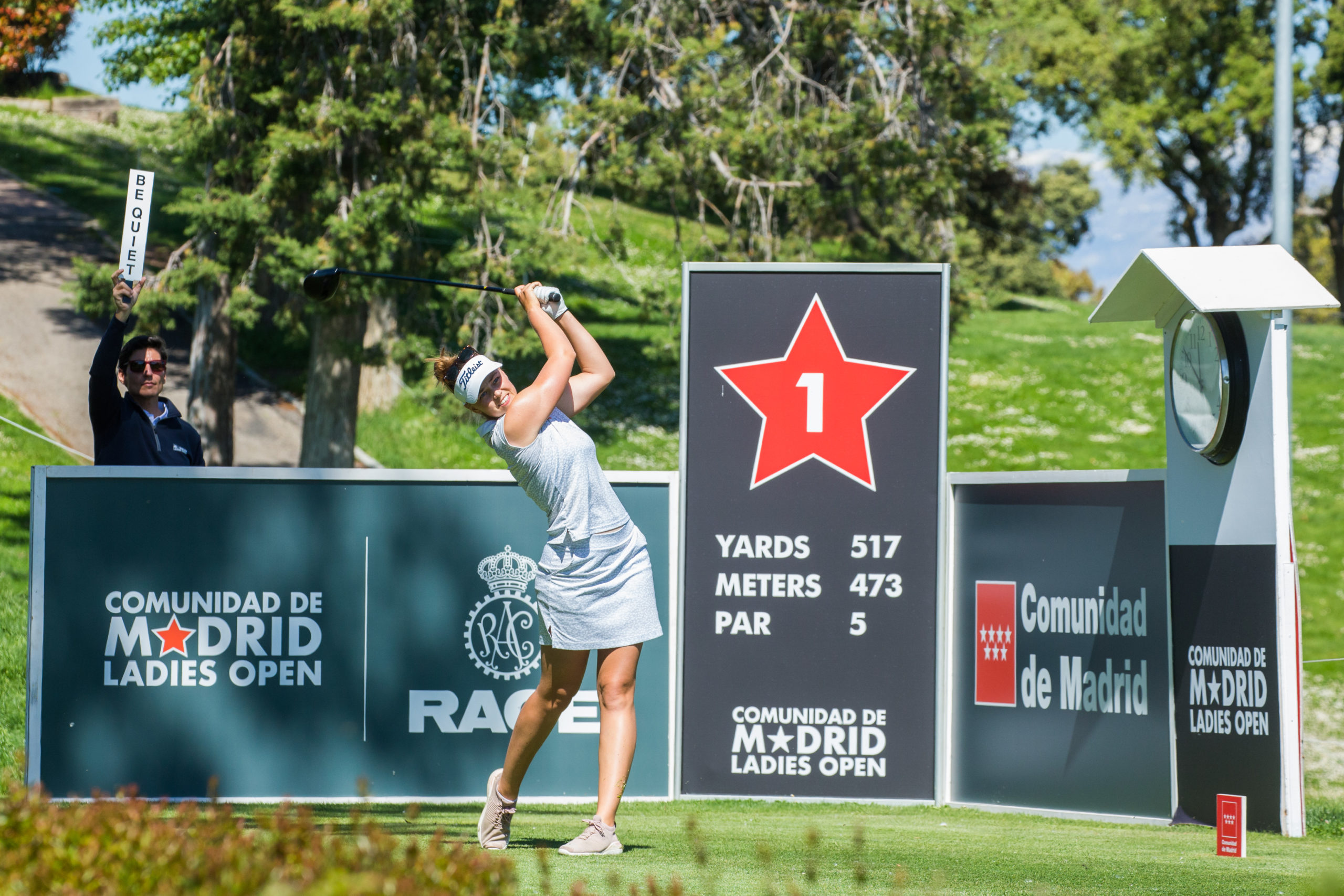 The last few months has been wonderful! Here are some more pictures from the last trips…