Starting back up in Saudi Arabia!
My next event will be in the Kingdom of Saudi Arabia starting the 12th of November. We, Knud Andreas and I, will be leaving the 7th of November. I am extremely excited to get to play again soon and I am getting ready to bring my A game.
In these strange, and in many ways dangerous, times with corona spreading, we will go through several steps to be able to play in Saudi Arabia. Firstly we have to get tested in Norway within 7 days of traveling, then we are flying to London Heathrow, which will be a change for us who have been driving everywhere. When arriving at the airport we will have to go straight to the designated hotel to get tested again. With the other players we will wait for our test results to get back, before we the following day will fly to Jeddah. Within the first 48 hours of arriving in Jeddah we have to take yet another covid test before we are allowed to compete in the tournament.
We are very thankful for all the efforts that are made by both the sponsors of the event and the Ladies European Tour to make sure that the events we play are as safe as can be. With all these measures in place with other checks and good routines everyday we feel more than safe when crossing boarders into different countries to compete.
Back on Norwegian ground
Good to be back! The Norwegian Cup just hosted its last event for the season. It was played at Miklagard Golf Club and was played over three rounds in one round each Wednesday for the last three Wednesdays. I really enjoyed playing in Norway again so the cold and rainy conditions did not ruin the fun. With the rounds 72, 68, 68 and a total score of eight under par I finished on a third place, and am very happy about lowering my total score from just a few events ago. My game was very strong over the course of these three rounds and I continue finding small things here and there that I use to improve my game.
Since my last post I have been to see both my swing coach Johan Elgborn and my putting coach Jon Karlsen. Play, analyze, learn, improve, repeat.
Now it is time for me to focus my time and energy on keeping my game strong, getting my body a little stronger now that I have a break from tournaments, and to prepare for the LET events in Saudi Arabia and Spain.
Amundi Czech Ladies Challenge
Last round of the tournament was better, 74 shots. With a supportive and positive caddie we worked as a team to finish the event as my back was making it difficult to swing fully and to pick up both tees and the ball from the hole. Four weeks in a row driving to each event and playing twenty-two rounds in total was a little to much for me this time : )
I have learned a whole lot during this past month, and I have enjoyed every last bit of it. I can now say that I have won my first professional tournament, I have a T15 on the Ladies European Tour, and I am many experiences richer and overall there has been lots of evolvement for me personally. Now I have a few weeks at home before having to gear up for the next events. More information will come!
Yet another even tougher round for me, unfortunately. My body was not keeping up with what my mind wanted to accomplish. Last round tomorrow with the tee time 8:11 and then a loooong drive awaits. For tomorrow my plan is to go out and attack the pins and leave everything I've got on the course. Nothing to lose but balls, haha. The score today was a 79 (+7).
And we are back in Czech for the last event before heading home! Round one of the Amundi Czech Ladies Challenge did not go as hoped. 75 (+3) and 8 shots behind the lead. If it was lack of focus in the 30 degrees heat, or my body giving in after many rounds of golf with not much of a break, it does not matter. What matters is that there is a new day tomorrow 🙂 8:30 Knud and I are teeing off from hole 1 for our second round on the LETACCESS.
VP Bank Swiss Ladies Open
Round three was a lot of fun! A rough and though start mentally the first four holes made the rest of the round even more fun. I started with a few strange and nervous shots which I found difficult to get back from. Two misses left into the hazard and the woods on the second and third hole which cost me two drops. A nervous tee-shot that leaked out to the right on hole four was the last halfway shot of the day, and from there and in the golf was good! Two bogeys and five birdies, was enough to climb to 15th place and give me my best finish on the Ladies European Tour so far with my overall best score of 72, 70, 69 (-5)!
Round two is in the box! 70 strokes (-2). The irons were better today and the putter was working well. I played good golf today, but I did unfortunately had a bad tee-shot that got a bad lie in a bunker… it resulted in a double bogey. Sometimes bad breaks happen, but all we can do is look forward. Today was fun and I am looking forward to tomorrow! Currently in T19, we are just going to go out there tomorrow and have fun 🙂
It is 06:47 in the morning, but I wanted to write before heading to the course for my tee time at 10:00. Yesterday for round one I shot 72 (par) and had a hard time making my mid-irons work, the rest of the game was strong, so I am looking forward to a fun round today! 4 birdies and 4 bogeys yesterday left me six shots behind the lead in T33th.
The link to the leaderboard:
https://ladieseuropeantour.com/reports-page/?tourn=1930&season=2020&report=tmscores~season=2020~params=P*1SRC01~
Match Play Flumserberg Ladies Open
Maiken WON!!!! Her first professional win! The first three matches were played over 6 holes while the final match was over 9 holes. The first match she won 2&1, second match 2&0, third match 1&0 and the final match 1&0 against the winner of the Flumserberg Ladies Open (Let Access), Sanna Nuutinen, yesterday. The final was broadcasted live on Swiss tv.
Maiken is super happy with herself and her caddie! They worked really well together today and had a fun day. Great play off the tee and some solid irons was the road to victory. In the final match Maiken was one down after the first hole after an unfortunate plugged ball in the bunker, she made her come-back starting with an amazing eagle on the fourth hole. A great tee shot left her with 210m to the flagstick, a perfect wood into the green and a right to left down hill putt from 18ft resulted in an eagle squaring up the match. She won the next hole on par and tied the remaining holes to secure the victory!
After the round firstly the local media interviewed Maiken, and then secondly local junior golfers came up to Maiken for signing of shirts and getting their picture taken. Then there was time for the prize ceremony!
Flumserberg Ladies Open
Round 3: Maiken described her last round as a fight. With the score of 73 (+1) she had one double bogey, two bogeys, and three birdies. Her short irons were very good today saving her while the long clubs brought the fescue into play. Maiken is looking at this tournament as a whole and is very happy with her second tournament in a row under par. 69, 71, 73 (-3) is her best event so far. Her game is getting stronger and her experience is growing, improving her overall understanding of the game but also her own strengths and weaknesses.
A bonus to this event was an event Maiken qualified for after the second round in the Flumserberg Ladies Open, a match play event with the top Pros after the second round plus 8 invited pros. This match play event will be hosted at the same course tomorrow, Sunday 6. September. It will be a fun day and Maiken is going to take it as practice even though there is money to be made. First 6 hole match is at 08:00, then the next at 10:00 and so on. Updates after tomorrow will be posted here.
Round 2: Maiken's tee time was at 12:50 this Friday afternoon. Five hours later in 28 degree heat she signed for a score of 71 (-1). Two birdies and one bogey. The game was very steady and not enough puts wanted to go in the hole today. With a lot of waiting especially on the last few holes, Maiken is pleased with the score and another round under par. Tomorrow her tee time is at 9:20, and with only 5 shots behind the lead in 9th place anything can happen. She said she was going to keep playing her own game and fight for every opportunity. You can follow her score on the link below.
Round 1: Maiken and Knud are well prepared for the next two rounds after a great round of 69 (-3). After a four quick birdies on the front she was -4 going into the back nine. Unfortunately Maiken missed a few fairways on the back costing her a few shots, but managed to get herself in on a very good score through the 18 first holes of the tournament. Maiken is tied for 5th place, four shots behind Stina Resen, another Norwegian player.
Maiken's plan for tomorrow is to keep giving herself som good opportunities for birdies and hit a few more fairways on the back nine 🙂
You may find the scores here.
Tipsport Czech Open
Round 3: With another good round Maiken and Knud climbed another few spots on the leaderboard and ended up at a T35. The last round was a round with three birdies on the front and two bogeys on the back, resulting in a round of 71 (-1). This is so far Maiken's best tournament on tour score wise and second to best placement wise. She would herself rank this finish over the T30th in South Africa as the field at this event included all the best players in Europe at the moment. With a smile on her face Maiken and Knud got in their car and started driving down to Switzerland for the next event which will be a LET Access, the level below LET.
Round 2: One hour after round 1 her tee time was at 9:00. She played very steady with very few errors but not too many great birdie opportunities. Two birdies and two bogeys resulted in a level par round, 72. Maiken is very pleased with her game at the moment, but has not let herself chase the pins as much as she wants to. This has resulted in few mistakes which is always good! She has made her second cut in four events and is happy with herself and her caddie and will do her best to keep the good play going for the last day Sunday.
Round 1: The play was solid and the ball-striking was good. The puts wouldn't drop, but an overall good first round. After the first day Maiken was -2, but because of lightning the girls were called off the course with only a few remaining holes to go. Maiken had a par put left on her second to last hole when they heard the horns sound over the entire course for immediate suspension of play. Right after everyone got to the clubhouse the weather changed dramatically. The rain flew sideways and the wind blew several tents over. The message was clear, at 19:08 only a short time after we got to the clubhouse, they were told the play was suspended for the day and everyone who did not finish were to come back and be ready to play at 07:30 Saturday. Saturday at 07:30 Maiken unfortunately missed her par put which was a little over to meter, but finished the last hole on par signing her card with a 71 (-1).
Maiken has arrived in Czech and so far everything is going well. The views are beautiful and the course is in good shape. Maiken and Knud took the ferry to Kiel, Germany and drove the remaining part by car to avoid unnecessary exposure in these corona-times. Everyone get tested before leaving their own country, and some even upon their arrival depending on where they come from. Players, caddies, and voluntaries are checked every morning and must also complete a questionnaire before being allowed into the tournament area. So safety has been a very central theme throughout the event, which is both important and comforting for the players.
Check out the scores at the Ladies European Tour website.
Golf from a different perspective
The last two days Maiken was watching and coaching the junior girls from Asker GK in the Norwegian Junior Team Championship at Oslo GK. The girls worked hard and was well rewarded with the bronze medal as they came in third after Fana GK and Stavanger GK.
As a coach seeing her four girls play the same hole the «not to do»-mistakes become clear and the «to do's» very apparent. Maiken said she really enjoyed seeing a different part of the game of golf viewed from a coach's perspective. It was a lot of fun helping of the girls make decisions about club choices off the tee and in the fairways, but also strategies around and on the greens. And even though she did not hit a single ball she learned a lot both course management, reading the greens and about the importance of confidence with each decision.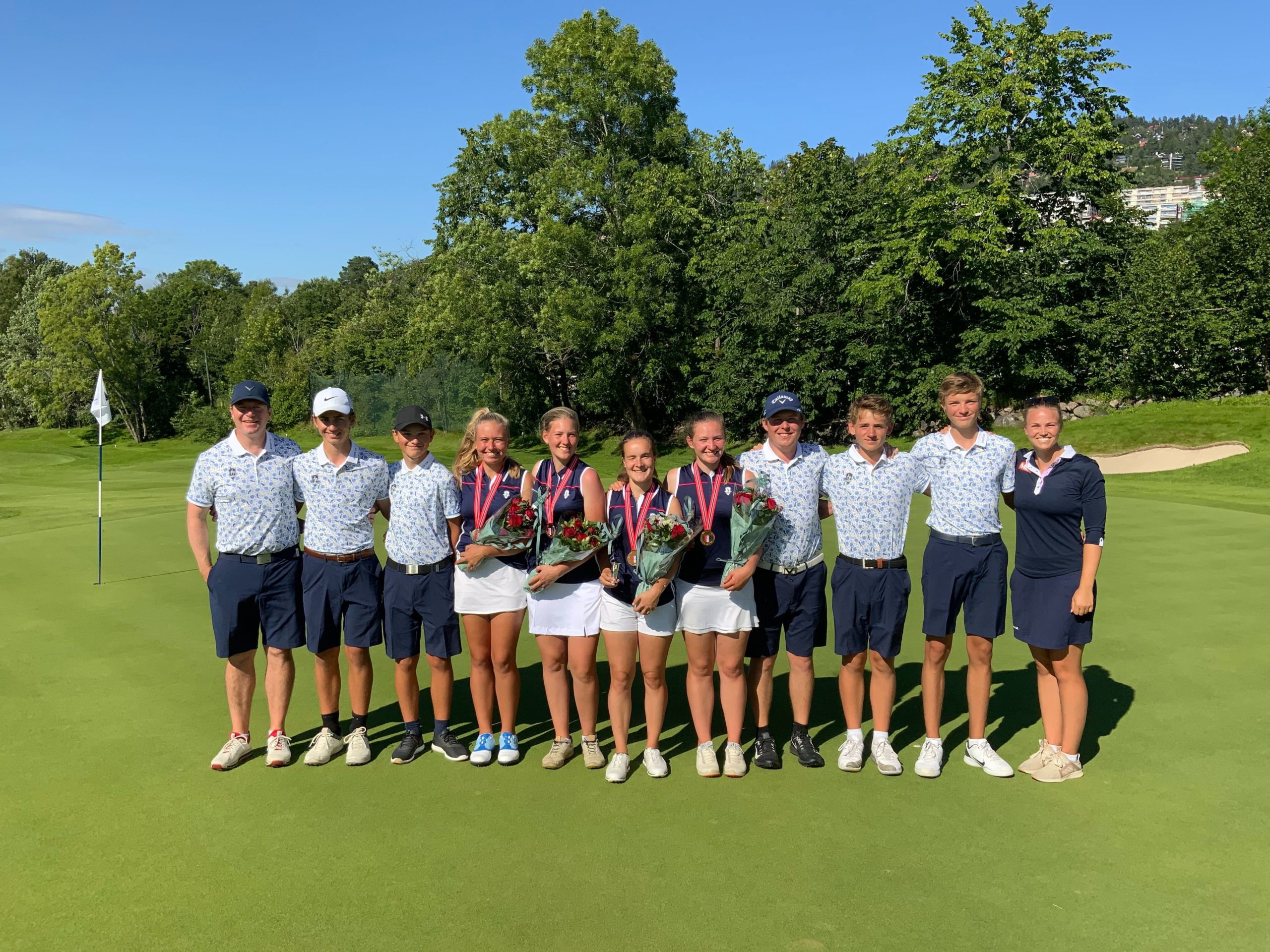 At this time Maiken is back to practicing and preparing for the Ladies European Tour tournaments she hopes to play. Yesterday all the countries she is planning to go to turned «red». Therefore there is no definite plan to what will happen and what she will actually play, but one thing is for sure, that she will prepare herself as well as she can for whichever outcome.
National Championship
Final day: Maiken managed to finish the tournament in style shooting the second lowest score of 70 (-2). Her scores were 73, 75, 76, 70 (total +6) resulting in a tie for 7th place. Today Maiken hit the driver in the middle of the fairways and with great iron play many good opportunities that led to five birdies. This tournament was challenging in many ways, and Maiken will use what she learned to develop her game more and more in the next few weeks preparing herself for the Ladies European Tour to start back up. Her first event will most likely be in Czech Republic the 28th of August.
Congratulations to Celine Borge who won National title on level par for the women, and to Kristian Krogh who took the title for the men.
Day three: Not quite what she had hoped for, 76 (+4). Three bogeys on the last four was not the finish Maiken wanted. Maiken said she will learn from the last days and try to put a good score on the card the last round tomorrow. She was very disappointed after the round and all she could do was to leave it in the past and move on. Tee time tomorrow, Sunday, at 10:20.
Day two: Maiken shot a 75 (+3) and is with that tied for 7th at +4. The leader is seven shots ahead with two days to go, so anything is possible. A lot of good but unfortunately a few wrong club choices resulting in bogeys today. An eagle and five bogeys is still enough for Maiken to stay in the game, and with two good rounds the next days she can really climb the leaderboard. Her tee time tomorrow is at 10:30.
The National Championship is held at Holtsmark GC this year, and it plays about 5700 meters. The tournament will be played over 4 days, one round each day, with a cut after two rounds where top 18 plus ties move on to play the last two days. With good greens and wet fairways, better than expected after a lot of rain, the course is beautifully presented with a few long par threes and fives giving all the girls plenty of challenge. Maiken played her first round at 9:00 am local time. She played well despite struggling off the tee, leaving herself in a good position after day one at 73 (+1). Round two tee time is at 2:00 pm and she will be looking to give herself more opportunities for birdies. Still plenty of golf left to be played this weekend, so stay tuned!
Team Championship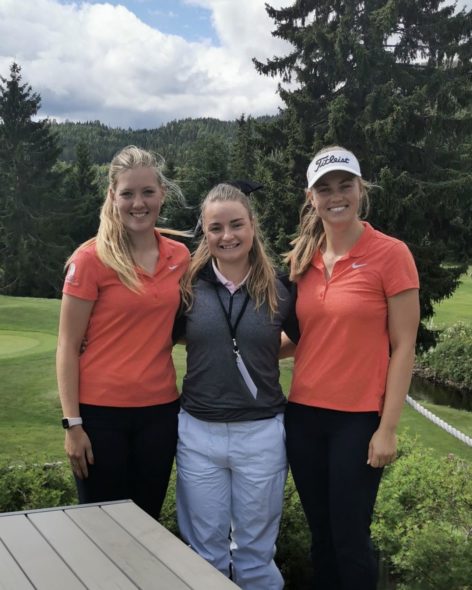 Maiken, Caroline (left), and Cesilie (middle) represented Drammen GC at the second division this year at Sorknes GC. Maiken and Caroline played the foursome and fourball together shooting 75 (+3) and 68 (-4). They were in second place before the last day with single rounds. Maiken shot 71 (-1), but it was unfortunately not enough as the team finished in third place. Only one team from the second division was to move to first division the consecutive year.
Maiken had a lot of fun this weekend and enjoyed helping and teaching Caroline who is a promising junior, who also happens to be her boyfriends little sister.
Next up for Maiken will be the Norwegian Championship at Holtsmark GC. This will be an event where all the best female golfers in Norway will compete. The field will be strong with European Tour players, a few Symetra Tour players, some from the LET Access and some of Europe's best juniors. The event will even be shown on national television, so stay tuned.
Tournament at Kongsvinger GC
Norgescup at Kongsvinger GC was a very interesting event for me. My scores were 78, 72, 76. One can sometimes tell by the score if a player had a good, ok, or bad day at the course, but for this event it is not so clear what went down.
Lightning postponements and my back unwilling to cooperate made the event a bigger challenge than expected. I had been looking forward to competing again, but this was just not my event.
The tournament was supposed to be held over a span of three days, but because the weather gods decided to spark up the day with some thunder and lightning, half the field, including myself, got to play a two day event with 36 and 18 holes.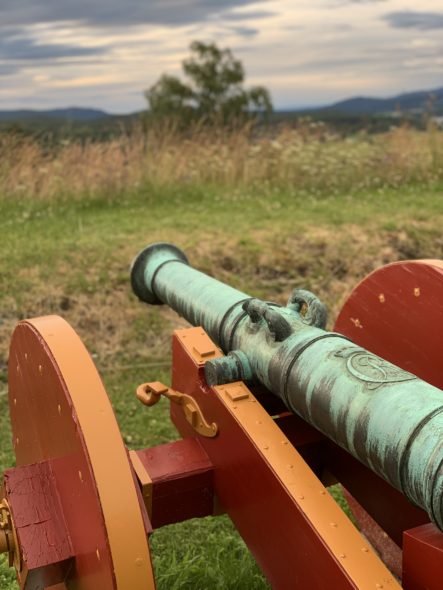 Five minutes of back treatment and some strong pain meds were a big help between the rounds the first day and I managed to play a good (although painful) round on par that afternoon. In this game of golf all the details matter and this time the margins were not on my side.
My back is much better now, and I will make sure to get the treatment I need and do the exercises necessary to be ready not only mentally but also physically for the next event which will be the team championship in a week, July 18-19th.
Due to the fact that my home club Drammen GK did not participate last year, we will play in the second division this year. I will enjoy playing with my future sister-in-law, Caroline Krokeide, and Cesilie Hagen. The tournament will be played over two days at Sorknes GC and is made up of a foursome, a fourball and a single round. More about that later…
Back to work!
First tournament back
The Norwegian Championship in Matchplay, June 25.-27. at Atlungstad GC, was our first tournament back after a long involuntary break. Going back to competing was a lot of fun, and I noticed quickly that it has been a few months since last event. A few wrong decisions and some poorly executed shots made it difficult to do as well as I wanted.
Underneath you can find a quick wrap up of the last days:
The format of the tournament was 9 hole matches. With just nine wholes to play there is no room for error, therefor focus and attitude were important to stay in the game and win. All the players started off in groups of six, after playing each other the top four players would move on to the finalizing matches, where the winner was to move on to the next match and the loser went home.
Maiken came 4th in her group and moved on to the knockout matches. She lost her match and was therefor out of the tournament tying for 9th place. Birdies and bogeys were more deadly than normal, and unfortunately for Maiken there were not enough birdies and a few too many bogeys.
With everything over she is looking back at the tournament as a great weekend with new knowledge of her own game, her own mind, and her future possibilities. Her game is improving as a whole and golf is becoming more and more intriguing… In one of her practice rounds for the tournament she had a round with 8 birdies, which begs the question, how many birdies can she have on a good day in a tournament on a course that fits her game even better? The limit is 18, but how close can she get when the stakes are high, like they are in a competition setting?
The next tournament for Maiken will begin in only 10 days. It starts on the 7th of Juli at Kongsvinger GC. This will be a normal stroke tournament over the course of three days. Maiken will be working hard over the next few days to prepare herself for some good golf and hopefully some low scores.
When will we be back?
Due to COVID-19, no-one really knows when the season will start up again. Nevertheless, it is important to control the variables within ones possession like staying on top of physical and mental health.
Maiken uses the temporary lockdown to:
Work on elements in her swing that could not be done in season
Become stronger, both physically and mentally
Learn that things do not always work out as planned
Work to support the rest of the season financially
See this interruption of the normal life as a wake-up call, there are bigger things in life than golf.
INVESTEC SA WOMEN'S OPEN, Westlake GC
After the first two tournaments in Australia, Maiken came to South Africa with the hope of three good rounds which would put her in a position to fight for a top position. The first round was a 73 (+1) that put her in a T29, which in this company was what she was aiming for. Day two was not what she had wanted after a good start, 77 (+5) T58.
With a great last round of 71 (-1) finishing eagle, par, birdie on the last three holes, Maiken bounced with back to a T30. Considering she had a mild food poisoning she was happy to have signed off on a round under par, made the cut, but almost more importantly been able to secure some points on the LET order of merit.
Before she knew it she was on her way home to Norway instead of going to Saudi Arabi for the next event. COVID-19 had taken people by surprise.
One of the rules officials at the tournament had explained to the girls playing that the Investec SA Women's Open was the only tournament in the world still being played. While The Players was cancelled Maiken's event was allowed to finish the last two days before everyone returned to their home countries.
Maiken and her caddie, dad Bror, made it home to Norway and went straight into quarantine. No-one really knows what time the next tournament will be, but Maiken will focus on practicing and working hard within the rules put in place in Norway.
Click here for full leaderboard

WOMEN'S NSW OPEN, Dubbo GC
Making it difficult for herself to make the cut this week Maiken started the tournament with a round of 80 (+8), with Mom on the bag again. With narrow fairways it was important to keep the ball in play off the tee, but with a driver that was not cooperating it was difficult to score well during the first round.
Knowing she needed a good score the following day to have even the slightest of chances to make it to the the last two days she shot a 72 (par), which was a great improvement and a good comeback, but the cut ended up at +5, and Maiken unfortunately missed the cut by tree shots.
Click here for full leaderboard
LADIES CLASSIC – BONVILLE, Bonville GC
Maiken played her first event on the European Tour in Bonville, Australia, with Mom Tone as caddie. The nature and the atmosphere was something form another world. The trees were taller than any tree she had ever seen before and the koalas were looking down at the girls playing the first event of the 2020 season.
With the scores 75, 72 (+3), Maiken missed the cut by one shot. That was especially frustrating when her last put on the last round took a 360 turn in the cup to come right back at her from 3 feet making a par on the 18th hole.
Much experience was gained, and she looked forward to the next event that was only a few days and a 10 hours bus ride away in Dubbo, New South Wales.
Click here for full leaderboard
The Ladies European Tour Qualifier
Maiken played the 2020 LET pre-qualifier 15-18. January at La Manga Golf Club, in Spain. The intent of the newly turned pro was to gain experience, but most importantly to prepare herself for next years qualifier.
Before the qualifier Team Norway organized a camp in Spain only 20 minutes from La Manga giving the girls a superb opportunity to practice both at the tournament course, but also on grass, which was not an option home in cold and snowy Norway.
With modest expectations, and boyfriend Knud Andreas Krokeide on the bag, anything seemed possible starting the first round on the South Course. A double on the third and a bogey on the fifth was not the best start, but with a birdie or two the round could be turned around, Maiken thought. Coming into her hole number 13, a par five, at four over par Maiken did something she had not done in many years, she made a nine (quadruple bogey). There you have it. Whether it was nerves, low blood sugar, wind or whatever did not really matter, it happened.
Stepping up on the tee box to her 14th hole and suddenly eight over par, Knud and Maiken decided that there were too many holes left of the round (and tournament) to let one lousy hole ruin their mood. So with a fake smile on her face Maiken finished the last holes with four pars and a bogey. A tie for 113th place was not good enough. Only top 60 were going to make it to the final qualifier.
While Maiken was not doing so great, some of the other Norwegians were all the way at the top of the leaderboard, Stina Resen shot a 67 giving her a tie for the lead.
A new day at a new course (North Course) with new inspiration and good faith resulted in a 74 (+3). With two birdies and five bogeys Maiken climbed from T113 to T85, but still five shots behind the projected cut.
On day three they were back at the South Course. Maiken shot a 73 (par), climbing up to T62, one shot behind the qualifying spots (the cut). What an improvement! Could it actually happen? Her game had gotten sharper and better day by day by building confidence and at the same time holding her own expectations in check.
We are going to let the others stress and worry. We will be the ones out there tomorrow having the best time!

– Knud
With those words in mind they were ready for the last and final day. Knud and Maiken were well aware that they needed a good score to make it through to the final stage, but their focus was not on the leaderboard, but on each other. They had a lot of fun that last day, and with a two birdies on the first nine, a pinch of anxiety and two bogeys on the back, she made it with a last round of 71 (par).
With the scores 82, 74, 73, 71 she shot +12 and came in tied for 52nd place. At that point in time the smiles were not fake anymore. A terrible start did not ruin what became the tournament of a life time. The Final Qualifier for the LET was only a few days away.
Click here for full leaderboard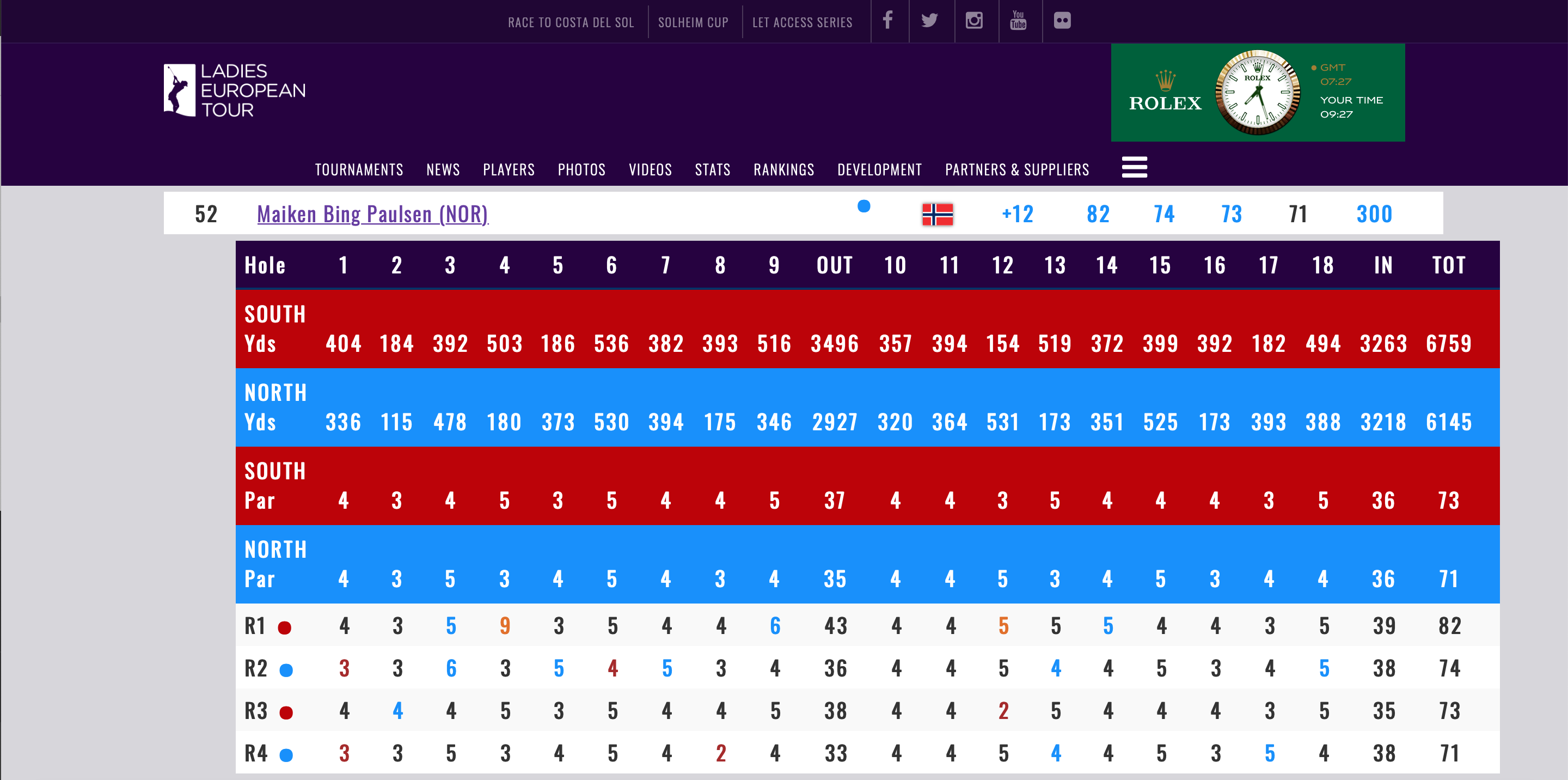 Final Qualifier
The Final Qualifier consisted of five rounds with a cut after the fourth. Only the top 60 players plus ties would make it to the last round, which was also going to give them a category on the Ladies European Tour.
Round one was on the North Course this time. With the feeling of nothing to lose and everything to gain Maiken and Knud went with a game plan and one thought, «let the others stress, we are here to have fun». 74 (+3) was an okey start, and it put her at a T59. When most of the players went to practice on the range after the round Maiken and Knud left to go home and rest, and then later go out and work on what was needed. Fun was also a key word after the rounds. Padel tennis, cards games, and mini competitions helped Maiken stay in her own bubble and not get too caught up with what everyone else was doing.
Round two, three, and four Maiken shot 75 (+2), 69 (-2), 72 (-1), moving her from T46 to T23 and then to T14. She was playing better and better. Her original goal to make the final cut, was no longer in her mind. She had her eyes on the top 10 spots and a full card on the LET, and even 1st place was not unthinkable. Maiken knew she needed to play well to even keep her spot, but anything could happen. That last day was going to decide the next year for everyone, including Maiken. That pressure was going to affect the minds of the girls on the course as well as their scores.
On 18th green Madelene Stavnar and Stina Resen came running over to congratulate Maiken who at the time did not know where she was placed on the leaderboard. After the congratulatory hugs Maiken went to sign her scorecard to make it official.
Maiken showed that last day that she deserved a spot on the European Tour, and that she has what it takes to make it big. With the score 71 (-2) Maiken finished her first European Tour Final Qualifier with a 6th place.
Who would have thought … after that first round of the pre-qualifier … LET player 2020?
With the total score of 361, level par for the tournament, Maiken got the first spot in category 8a giving her access to almost all of the tournaments on the LET for 2020. Maiken could still not grasp what she actually had accomplished. It was time to start living what was for a while only a distant dream.
Ladies European Tour, here I come!

– Maiken
Click here to see full leaderboard.