13.11.20:
Unfortunately I missed the cut by a lot. BUT, round 2 was a lot better, but I finished last. This was an eye opener that showing me that I really need to practice more in windy conditions and learn how to shape shots also in this type of weather. 77 (+5) today. I have really learned a lot from the last few days and I will use the next few well and learn some new shots for the next event (the team event). I appreciate the positive texts I have received and I take it with a smile. Some days are worse than others 🙂
Round 1 was a catastrophe. Unfortunately the wind and I were not friends and I struggled the whole day. I hit many great shots but in these conditions that is not always enough. One fun thing that happened today was that I hit a 330 yard drive. It might tell you enough about how windy it was. The mood is still good, and the Knud and I will do our very best to try to salvage this event with a good round tomorrow. It can only go one way, up.
Today was the last day of practice before the tournament begins tomorrow. We spent our time well today and had a good practice both on the short game area, the putting green and also the range. The course is set up quite long and the greens can be challenging, meaning that all the parts of my game will be put to the test these next days.
We are enjoying our time in the very beautiful and warm weather as much as possible as our surroundings, the course, the food and the hotel are over average amazing.
I forgot to mention earlier that Knud and I had to book two different rooms for these two events because of the rules, law and culture in Saudi Arabia. We are not married and can therefor not share a room. So for the next two weeks I will be rooming with a super cute Swedish girl, Anna Magnuson. Anna is also a rookie on the LET this year like me, and so far we are having the best of times.
To view the scores press the link below:
Different Tournament Setup
For this journey to Saudi Arabia there will not only be one, but two events at Royal Greens Golf & Country Club. The first normal LET event is played over four rounds 12–15th of November. Thereafter, 17–19th a new format is introduced with three professionals and one amateur on the same team playing three rounds.
There will be a lot of great players in both events and I am really looking forward to playing some good golf again. The course is beautifully placed just by the Red Sea, so the wind can for sure make the course a little challenging while the greens can also force some errors on the players these two weeks. Either way it will be an adventure from start to finish. I will try to update my page once a day, so stay tuned 🙂
Our way to Saudi Arabia was no walk in the park
My plan is simply to plan until I either reach my goal or the goal is no longer available. Changing a plan can be scary and it for sure was when we were at Oslo Airport being told by London immigration that there was «absolutely no way!» that we were allowed into London as the UK closed its borders. For a short time Stina, Karoline, Knud and I started questioning if we would be able to get to the tournament.
A few hours at the airport with some great help from SAS the problem with our travel plan was detected. The UK immigration had said NO because of Denmark! Denmark was a no go. Our route originally included Denmark as our first stop, but because of the new mutated corona virus anyone who had visited Denmark within the last 14 days were not allowed into the UK.
When you know what the problem is you can either solve it or work around it, and so we did. Our new plan was to come back the next day with new hopes to fly straight to London Heathrow and then Jeddah, Saudi Arabia. Three COVID tests, two visa applications for both the UK and Saudi Arabia and one day later we found ourselves in the very different but yet amazing city, Jeddah just a short drive from Mecca.
We arrived at the hotel around 7 am after an hour long car-shuttle from the airport provided by the LET, checked in to a fantastic suite, took a power nap, put on appropriate golf attire (t-shirt that covers the shoulders and pants that cover the knees) and played our first practice round in beautiful sun and 31 degrees celsius.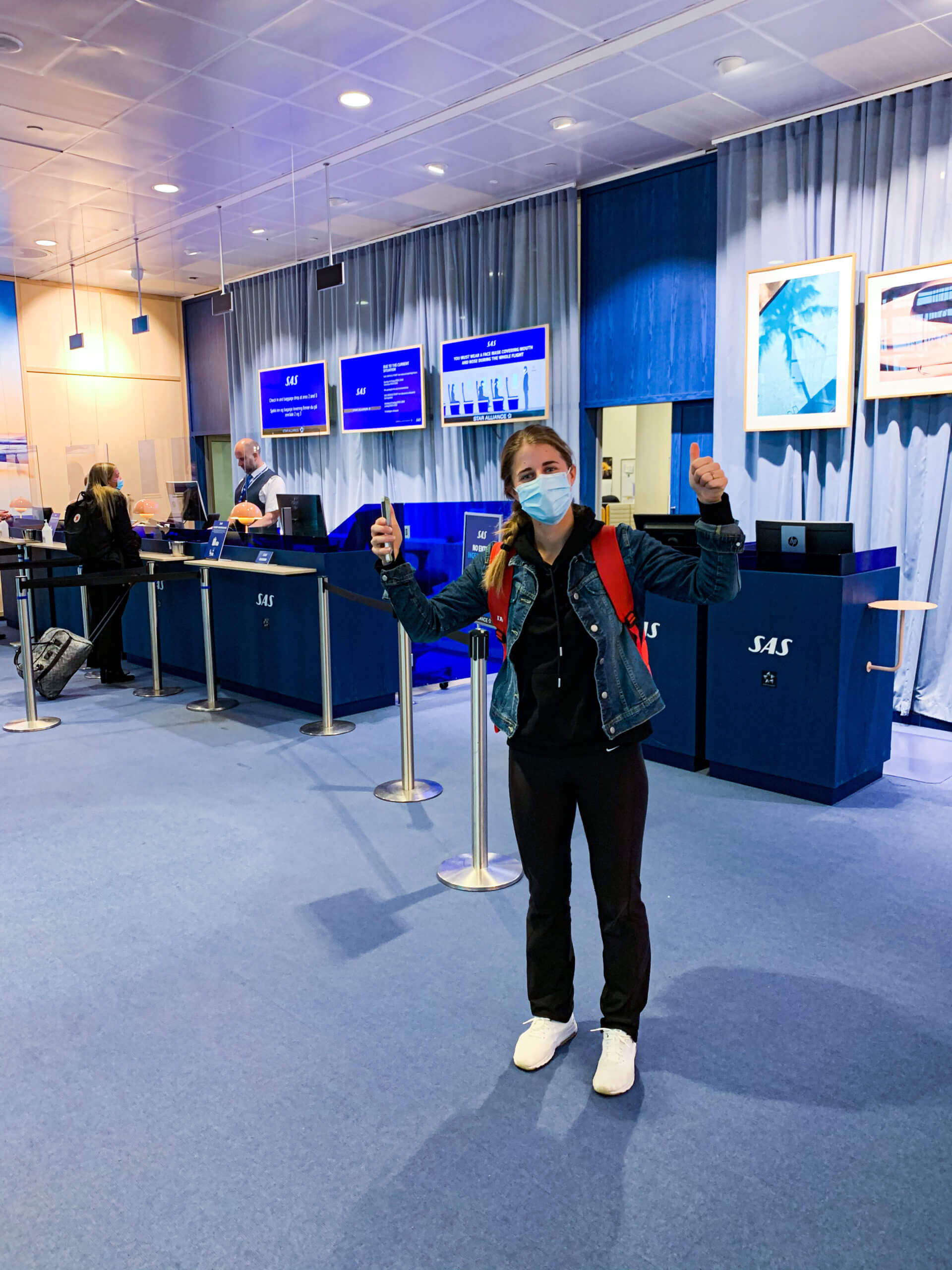 Starting back up in Saudi Arabia soon!
My next event will be in the Kingdom of Saudi Arabia starting the 12th of November. We, Knud Andreas and I, will be leaving the 7th of November. I am extremely excited to get to play again soon and I am getting ready to bring my A game.
In these strange, and in many ways dangerous, times with corona spreading, we will go through several steps to be able to play in Saudi Arabia. Firstly we have to get tested in Norway within 7 days of traveling, then we are flying to London Heathrow, which will be a change for us who have been driving everywhere. When arriving at the airport we will have to go straight to the designated hotel to get tested again. With the other players we will wait for our test results to get back, before we the following day will fly to Jeddah. Within the first 48 hours of arriving in Jeddah we have to take yet another covid test before we are allowed to compete in the tournament.
We are very thankful for all the efforts that are made by both the sponsors of the event and the Ladies European Tour to make sure that the events we play are as safe as can be. With all these measures in place with other checks and good routines everyday we feel more than safe when crossing boarders into different countries to compete.