Maiken played the 2020 LET pre-qualifier 15-18. January at La Manga Golf Club, in Spain. The intent of the newly turned pro was to gain experience, but most importantly to prepare herself for next years qualifier.
Before the qualifier Team Norway organized a camp in Spain only 20 minutes from La Manga giving the girls a superb opportunity to practice both at the tournament course, but also on grass, which was not an option home in cold and snowy Norway.
With modest expectations, and boyfriend Knud Andreas Krokeide on the bag, anything seemed possible starting the first round on the South Course. A double on the third and a bogey on the fifth was not the best start, but with a birdie or two the round could be turned around, Maiken thought. Coming into her hole number 13, a par five, at four over par Maiken did something she had not done in many years, she made a nine (quadruple bogey). There you have it. Whether it was nerves, low blood sugar, wind or whatever did not really matter, it happened.
Stepping up on the tee box to her 14th hole and suddenly eight over par, Knud and Maiken decided that there were too many holes left of the round (and tournament) to let one lousy hole ruin their mood. So with a fake smile on her face Maiken finished the last holes with four pars and a bogey. A tie for 113th place was not good enough. Only top 60 were going to make it to the final qualifier.
While Maiken was not doing so great, some of the other Norwegians were all the way at the top of the leaderboard, with Stina Resen at the top with a round of 67 tied for the lead.
A new day at a new course (North Course) with new inspiration and good faith resulted in a 74 (+3). With two birdies and five bogeys Maiken climbed from T113 to T85, but still five shots behind the projected cut.
On day three they were back at the South Course. Maiken shot a 73 (par), climbing up to T62, one shot behind the qualifying spots (the cut). What an improvement! Could it actually happen? Her game had gotten sharper and better day by day by building confidence and at the same time holding her own expectations in check.
We are going to let the others stress and worry. We will be the ones out there tomorrow having the best time!

– Knud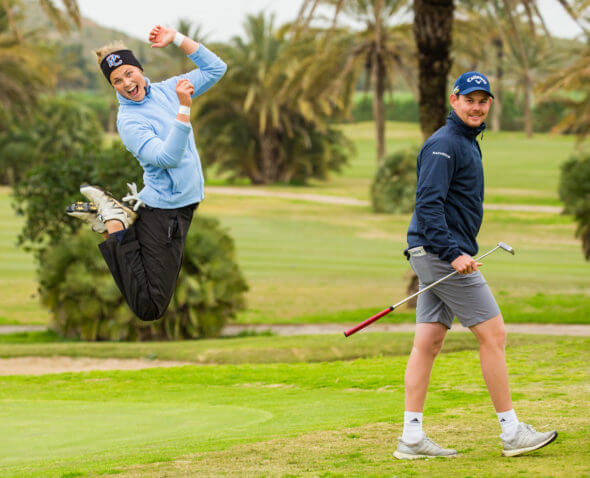 With those words in mind they were ready for the last and final day. Knud and Maiken were well aware that they needed a good score to make it through to the final stage, but their focus was not on the leaderboard, but on each other. They had a lot of fun that last day, and with a two birdies on the first nine, a pinch of nerves and two bogeys on the back, she made it through with a last round of 71 (par).
The scores 82, 74, 73, 71 (+12) and came in tied for 52nd place. At that point in time the smiles were not fake anymore. A terrible start did not ruin what became the tournament of a life time. The Final Qualifier for the LET was only a few days away.
Click here for full leaderboard